Alberto Giolitti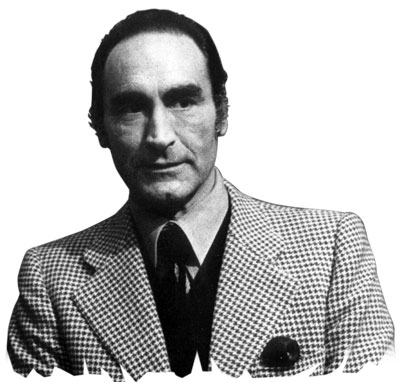 Alberto was born in Rome on Novembre 14, 1923. His family owned the Caffè-Gelateria Giolitti, since 1900, one of the most renowned ice cream and coffee house in Rome. It is located near the Chamber of Deputies, in the historical center of Rome and here Alberto worked for a brief period.
Already as a young man it was very clear that he had talent for drawing, so at the young age of 14, encouraged by a friend of the family, he brought his drawings to the Publishing House A.V.E. (Anonima Veritas Editrice) of Rome. That was the very same year that A.V.E. starter publishing "Il Vittorioso". This very important catholic weekly magazine published his "I Senza Paura" with script by Colombina. However, the series was interrupted in August of 1943 due to the war.
Meanwhile, Alberto studies art and design in High School and then continues with the Academy of Art and Architecture until his studies are interrupted for militare service.
After his military service Alberto once again returns to his drawing where he illustrated for A.V.E. Publishing "Le Avventure di Italo Nurago" and "Il Fortino Assediato" with script from Rainuzzo. In 1947 he drew "Albi dei Quattro Cerchi", a supplement to "Il Vittorioso", "l'Oasi del mistero" (Red series) always from the Rainuzzo script. For the "Albi del Vittorioso" he creates "Alta e Omega" (Jim Brady series) and "Dick Martin" (Giraffone series), both with Sorgi script, and the western "Dick & Martin".
After a short period of adjustment as scenographer, movie poster illustrator and instructor, on Jan. 1 of 1946 Alberto decided to emigrate to Argentina. This bold decision on his part was due to the fact that at that moment Argentina was the forge in the world for comic book artists. In Buenos Aires he worked for Editorial Lainez and Columbia Hermanos where he produced, until 1949, police stories and novel adaptations like "Quo Vadis?".

In June of 1949 Alberto emigrates to New York where he starts a happy and long collaboration with Dell Publishing, that also produces Dell Comics. Actually in 1938 this publishing house made an agreement with Western Plublishing from Wisconsin, with offices also in New York. According to the agreement, Dell financed and distributed what Western Production produced. Therefore, he actually worked for Western for 33 years, drawing the famous characters of the moment as well as "Indian chief", "The Challenge of Zorro" (1956) "Tonto" (from the name of the Indian that was the shadow of Lone Ranger), "The Cisco Kid", "Jungle Jim", "Tarzan" and various other single historical and adventurous tales like "Gulliver's Travels", for which in 1955 he receives the "Thomas Alva Edison Award" for the best story for children over 8 years old. Furthermore, he draws "Alexander the Great" in 1956, "The Christmas Story", and "Aladin and the Marvelous Lamp".
From 1956 to 1962 Alberto also produces western stories, adapting comic book art to the the popular television series of that period: "Sergeant Preston of the Yukon", "The Lone Ranger's Famous Horse Hi-Ho Silver" (1956-1960), "Gunsmoke", a book dedicated to President Abraham Lincoln (1958), "Tales of Wells Fargo" (1959) "Have Gun, will Travel" (1960-62) "Boris Karloff" (1962).
From New York, Alberto moves on Lake Placid and then on Lake Gorge, closet on the Canadian border, when he produces "Sergeant Preston of the Yukon", these episodes often take place in the snow with dog sleds.
After a short stay in Rome in 1953 he returns to the USA, this time in Florida, and in 1955 marries Joan with which he has 2 children and becomes an american citizen.

Alberto remains in th USA until 1962, then returns for ever to Rome with his family, but continue to produce and work for the US. As a matter of fact, from the end of 1960, after having inherited the character from other artist, he draws the comic albums of "Turok, son of stone" (his first episode is number 24).
He continued producing this character until April of 1982 and number 130. The creator of Turok was probably publisher Matt Murphy, but sources tell us that the first stories were written by Alberto even though he did not draw them. In 1962 Western Publishing decided to terminate the collaboration with the Dell Comics and began publishing their own comic books using the "Gold Key Comics" label. In fact, Turok was marked "Dell Comic" until number 30, and after was labeled "Gold Key". The comic books from N. 127-130 were labeled "Whitman Imprint" and after N. 131 were printed in black and white. This Chicago publishing house (ex Hammerung-Whitman Publishing Co.) was bought out by Western in 1915 and produced litterature for children.

At the end of 1968, Alberto start drawing comic books inspired by another well known American Television series: Star Trek. Therefore, at the same time as Turok, and not ever having even seen an episode of Star Trek on TV and working solely with pictures supplied by the editor, he draws 25 episodes, starting with n. 3 in December of 1968 until March of 1976 and number 36. The producer even supplied the models for the spaceship and the objects used by the actors.

In July of 1976 from n. 38 of the series is continued by the comic artist Alden McWilliam and N. 37 was reprinted from Alberto's N. 5.
McWilliam continues the series until its end in March of 1979 with n. 61.
N. 62 designed by Frank Bolle was never printed.
In order to produce the two series, Turok and Star Trek, Alberto often collaborates with other artists: Giovanni Ticci, Massimo Belardinelli, Giorgio Cambiotti, Mario Pedrazzi and Angelo Todaro.
Meanwhile Alberto draws pages for other stories: "Freedom Agent" (1963), "Twilight Zone" (from 1963-1970), "Lord Jim" (1965), various episodes in "Ripley's Believe it or Not" (1965-66 and 1978), "Laredo" (1966), "Voyage to the Bottom of the Sea" (from 1966-1970), some episodes of "Tarzan" (1967), "King Kong" (1968), "Cowboy in Africa" (1968), "Sword for Hire" for the annual (1969) of "Hurricane" of Fleetway of London, "Beneath the Planet of the Apes" (1979), some stories for "Mistery Comics Digest" (1972-75) and the episode "Dominus" pubblished on "Starstream" (1976).

When Alberto Giolitti returned to Italy in 1960 he founded the "Giolitti Studios", an editorial agency of writers and comic book artists for the international market.
The studio kept growing and in a few short years there were over 50 comic artists, and not all Italian, working for Alberto. Some of these artists were Franco Caprioli, Roberto Diso, Sandro Chiarolla, Giancarlo Alessandrini, Enrico Bagnoli, Ruggero Giovannini, Renato Polese, Giovanni Ticci, Ugolino Cossu, Angelo Todaro, Massimo Rotundo, Franco Saudelli, Alberto Salinas, Paolo Morales, Massimo Belardinelli, Giorgio Cambiotti, Romano Felmang, Umberto Sammarini e Nevio Zeccara, that had drawn the first 2 Star Trek.
Initially the Studio produced for Germany: Bastei Verlag, located in Bergisch Gladbach, near Cologne, ("Buffalo Bill" and "Lasso" comic books, presenting the character "Reno Kid"), Moewig Verlag in Munich ("FBI" comic book) and Pabel Verlag in Rastatt ("Perry" comic book); and for England: I.P.C. Fleetway of London publications. The Studio later produced also for the U.S., creating also comic books with characters form Warner Bros: Bugs Bunny, Daffy Duck, Porky Pig, etc. Towards the end of the 1960's the Giolitti Studio also produced for the Italian market: "l'Uomo Mascherato", "Mandrake", "Flash Gordon" (for Fratelli Spada Publishing Company) and adult Comics "Jacula", "Cosmine", "Super Black", "Oltretomba", "Terror" and others for the Ediperiodici of Milan.

In 1976 Alberto begins to colloborate with Bonelli Editore drawing approximately 30 pages of Tex Willer, but then he stops because of too many work commitments and the series is continued and ended by Giovanni Ticci and printed with number 188, entitled "Sabbie Insanguinate"; the story continues with number 189.
In 1986 Giolitti draws for Comic Art, with script of Giorgio Pedrazzi, "Cinque Anni Dopo "Five years after bomb", one story which takes place in the U.S.

In 1989, with the pseudonimum of Gilbert, Alberto rejoins the team working on Tex and he draws the Special Tex N. 2 "Terra Senza Legge", with subject and screenplay by Claudio Nizzi. This collaboration continues in the years following and we can see the drawings in the N. 357 "La Mano nella Roccia", (July 1990), 358 ("Il tesoro della città perduta", August 1990), 373 ("Falso Allarme", September 1991), 374 ("La Pistola nascosta", October 1991), 431 (printed in September with the title "La strage di Red Hill", an episode which took place on Canadian soil very closet on the U.S. border – for Alberto a kind of return home to the "Sergeant Preston of the Yukon"), 432 ("Polizia a Cavallo", October 1996) and 433 ("Due Pistole per Jason", November 1996) which was finished by Ticci when Alberto died unexpectedly in Rome on April 15, 1993.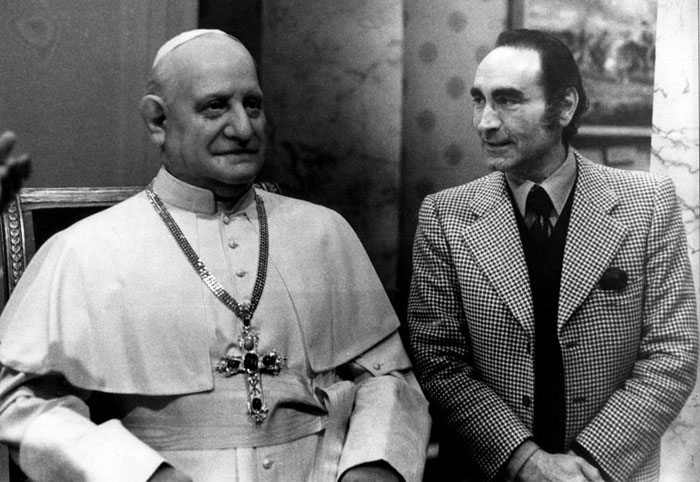 Alberto Giolitti in London, Madame Tussaud's Museum, near the wax Papa Giovanni XXIII's statue.